Vinanet - Rice prices in Thailand, India and Vietnam increased simultaneously. Bangladesh signed a rice import contract with Vietnam.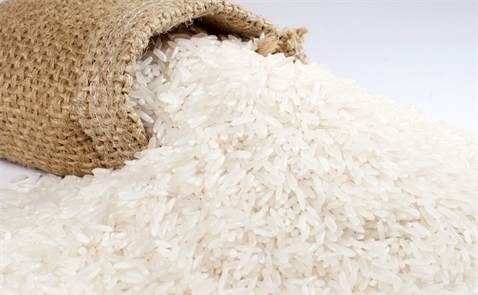 This week the rice export price on the Asia market continued to rise up due to strong demands from key import markets such as Bangladesh and the Philippines.
In Thailand, 5% broken rice was at $ 450-457 per ton, FOB Bangkok increased from $ 440 to $ 457 per ton a week ago.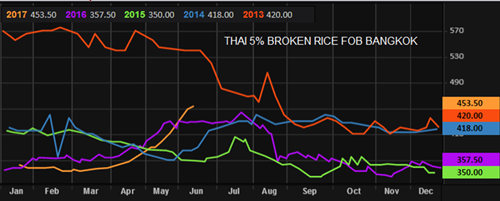 Thailand`s rice price had been rising consecutively since March when merchants started to carry out delivery contracts, and last week it rose to the highest level since August 2013.
Exporters of this country continued to buy rice from milling factories to complete signed contracts with relatively high demands from Bangladesh, Iran, Iraq and the Philippines.
"The price continues rising and has no sign of stopping," Reuters quoted a sayinging of a businessman in Bangkok, and added, "The supply source is low and exporters still need to buy to fulfill the contracts while demands are highly increasing in the world."
Thailand's secondary rice crop is expected to be harvested in about August - September.
In Vietnam, 5% broken rice was at $ 410 / ton, FOB Saigon increased from $ 395 to $ 400 / ton a week ago and at present it`s the highest level since November 2014.
Vietnam`s rice prices have increased since early May as it`s forecast that the demand from international importers will increase in the context of the limited supply source.
Bangladesh will import 200,000 tonnes of white rice at the price of $ 430 a tonne and 50,000 tonnes of rice at the price of $ 470 a tonne from Vietnam under the government-level contracts, said Ataur Rahman, Secretary of Bangladesh Food Ministry .Rice will be delivered within 60 days and the first delivery will be made within the next 15 days.
Rice price in Bangladesh reached the highest level in May while national reserves dropped to the lowest in six years because the floods caused the damage of about 600,000 tons of rice for this country.
Bangladesh National Cereal Agency announced that it would import 600,000 tonnes after the flood, first it would issue two tenders to purchase total 100,000 tonnes - the first tender since 2011.
The rates are sharply higher than what it is paying for through tenders. Bangladesh is buying 50,000 tonnes of white rice at $ 406.48 a tonne and 50,000 tonnes of parboiled rice at $ 427.85 a tonne through tenders.
Bangladesh is also negotiating with Thailand and India to import more rice in order to stabilize the domestic price while the national rice reserves are at the lowest level in 10 past years.
The Philippines said it would open the tender next month to purchase 250,000 tonnes of rice from Thailand, Vietnam and possibly India.
In India, 5% broken rice price increased from $ 7 / tonne to $ 422-425 / tonne due to the rising domestic price and the strong demand from African customers.
"In the past, customers switched to purchase from other supply sources because Indian rice was expensive, but at present Thailand`s and Vietnam`s rice prices have also risen to the same level as the India`s rice price," Reuters quoted a saying of a businessman in Kakinada in Andhra Pradesh in the South of India.
India's non-basmati rice export in April dropped by 18.5 percent compared to the same period last year to 475,050 tonnes due to the strong increase of rupee. Rupee has increased by 5.7% since the beginning of this year, at present it`s traded at the highest level for nearly 21 months. This forces exporters to raise the export rice price (in USD). The scarce domestic rice supply source also contributed to pushing the rice price up, and reduced profits of exporters.
Related information
Iraq launched a tender to purchase 30,000 tonnes of rice, Thailand offered the lowest price
On May 11th, Iraqi National Cereal Agency launched a tender to purchase at least 30,000 tonnes of rice, and the cheapest offering price was $ 498.20 a tonne, C & F provided by Thailand. Next low prices were $ 503.20/ ton also by Thailand, and $ 595/ ton by the United States.
Bangladesh tendered to buy 50,000 tonnes of rice
Also on June 11th, the National Food Authority of Bangladesh tendered to buy 50,000 tonnes of rice, with the lowest offering price of $ 445.11/tonne by Olam Trading Company. The next low prices belonged to Agro Corp ($ 449.55 per ton), Singsong Food ($ 458 per ton), Desh Trading ($ 459.67 per ton), Amir Chand ($ 474 per ton) and Sukhbir Agro $ 459.30 per ton). Rice will be delivered within 40 days.
Thailand sells more 90% of the rice amount obtained from the government`s stockpiles
Vietnam News Agency`s reporter in Bangkok quoted an announcement of Thailand Ministry of Commerce that this country sold out 1.66 million tons of rice with the value of $ 49 million, accounting for 90% of the rice quantity taken from stockpiles.
Thailand is the world's second-largest rice exporter after India and the remaining rice quantity of this country after the previous rice purchase program of the government is about 3 million tonnes.
Thailand`s government said it might sell all of its remaining rice quantity in stockpiles, including 160,000 tonnes of good rice and 2.7 million tonnes of poor quality rice by the end of this year.

China strongly fights against smuggling rice
Xinhua reported that on June 12 Chinese customs said local authorities had taken action to fight against 27 groups suspected of smuggling about 300,000 tons of rice.
FAO forecast Vietnam to be among the top five countries having the largest rice output in 2017
According to the report on Food Prospects published by the Food and Agriculture Organization (FAO) of the United Nations, the global rice yield this year is likely to increase by 0.7% over the same period last year to more than 502 million tons thanks to Production encouraging policies in Asia and the production recovery in South America and Australia.
FAO observes that five countries having the largest rice yield this year are China (over 142 million tonnes), India (over 110 million tonnes), Indonesia, Bangladesh and Vietnam.
Rice export in the first five months of Cambodia reached the highest level.
In the first five months of 2017, Cambodia exported 257,637 tons of rice, increased by 10% over the same period last year.
According to the latest report released on June 10th by the Secretariat of the One Window Service for Rice Export in Phnom Penh, Cambodia has exported rice to 57 countries and territories, of which the top three importers are China , France and Poland.
From January to May 2017, China imported 88,769 tonnes of rice, France imported 33,459 tonnes and Poland imported 23,036 tonnes.
In this mid-May, after the visit to China, Cambodian Prime Minister SamdechTecho Hun Sen said that China had agreed to increase the quota of importing rice from Cambodia to 300,000 tonnes in 2018, an increase of 100,000 tonnes compared to 2017.
According to Ministry of Agriculture of Cambodia, this country produces more than 9 million tonnes of paddy per year and spends more than 3 million tonnes of rice for export.
Source: VITIC/Reuters, VNA