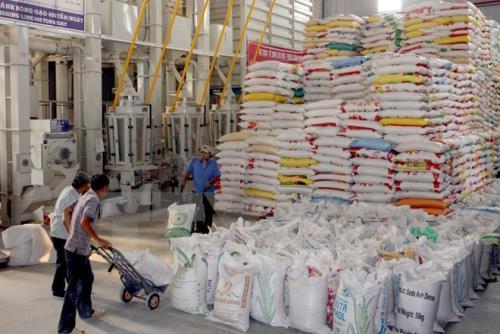 Rice price strongly recovered in both domestic and export markets Image for illustration: Dinh Hue / VNA
According to some rice exporters, most of the export rice have obtained a significant increase compared to three weeks ago. Remarkably, jasmine rice has gained the impressive growth, it is being offered at $ 565 - $ 570 per ton, increased by $ 65 to $ 70 per ton compared to three weeks ago.
Similarly, Vietnamese 5% broken rice is being offered at $ 410-400 / tonne, increased by $ 35-45 / ton; 25% broken rice is sold at $ 370 - $ 375 / ton, increased by $ 25 - $ 30 / ton. Types of parboiled rice increased by $ 20 - $ 30 a ton.
At present, Vietnam's rice export price is almost lower than Thai rice, but equal to or higher than other sources.
In the domestic market, the rice price in the Mekong Delta has increased significantly. According to Ms. Dang Thi Lien, Director of Long An Foodstuff Company Limited, the price of most types of domestic rice has increased, the average increase is over 1,000 dong per kg.
Mr. Nguyen Van Don, Director of Viet Hung Co., Ltd (Tien Giang) said that Jasmine rice was in a great demand, but the supply was relatively limited. Even, some farmers and traders "store their products without selling" to wait for the price increase.
This fact leads to the situation of "competing to purchase" among enterprises, which pushes the domestic rice price up to a higher level than the export price. With such the high price increase , if enterprises continue to buy, it will not bring economic efficiency.
Some enterprises that signed the contract before also faced up with difficulties when the domestic price rose too high.
Explaining the reason for the strong rice price recovery, enterprises said that it`s because the demand for rice in the world was rising while the supply source was limited.
In particular, latest information about the demand for importing rice from Vietnam of some markets such as Bangladesh, Philippines, Malaysia ... heated up the rice market in the country.
Specifically, in recent time, Bangladesh and Vietnam have signed a memorandum of understanding on rice trading; At the same time, this country announced it wanted to buy about 250,000-300,000 tonnes of 5% broken white rice and buy a total of about 500,000 tonnes of rice from Vietnam from now until the end of 2017.
The Philippines also made an official announcement about its plan to import 250,000 tonnes of rice in June and July to boost rice stockpiles before the off-season period and in the event of paddy damage because of rain, storms, etc.
In addition, Thailand's discharge for a huge amount of rice in stocks helped the world rice market return to the balance.
According to data of Vietnam Food Association (VFA), in the first five months of 2017, Vietnam's rice export declined compared to the same period in 2016.
However, if considering each individual month, since April, the rice export have achieved a relatively high increase compared to the same period last year. For example, in May 2017, compared to the same period in 2016, the rice export increased by 27.3% in quantity and 24% in FOB (price at port of departure).
This shows that Vietnam's rice export started to recover after being in a gloomy state in a long period.
Source of information from enterprises also showed that although the consumption demand was rising, but the supply was quite limited. This pushed the price of export rice in the countries up correspondingly. In Vietnam, the amount of rice in stock of enterprises is not much, but most are under export contracts but have not been delivered.
Currently, more than 1.3 million tons of rice have been under export contracts signed by enterprises but have not been delivered. Enterprises are waiting for harvests of summer rice to purchase and meet the demand.
According to data ofDepartment of Crop Production (Ministry of Agriculture and Rural Development), as of June 15th, provinces and cities of the Mekong River Delta, had sowed the seeds for the summer-autumn crop of 2017 in 1.58 million hectares among 1.6 million hectares as planned.
Approximately 280,000 ha of summer-autumn rice crop was harvested with an average yield of 6.1 tons per hectare./.