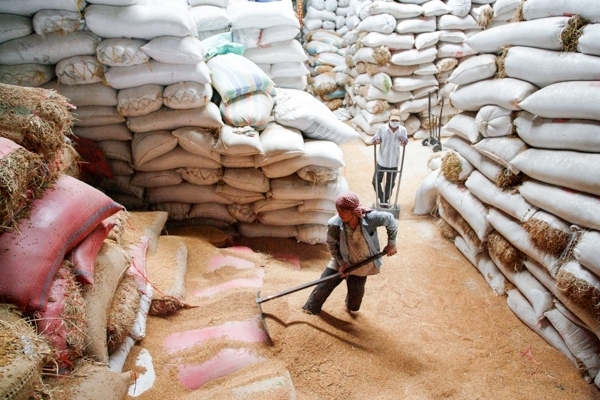 Rice warehouse at a milling facility in the suburbs of Phnom Penh Capital. (Image: Khmer Times)
Cambodian rice was most exported to China with more than 88,700 tonnes, followed by France (over 33,400 tonnes) and Poland (over 23,000 tonnes).
Particularly in this May, Cambodia exported more than 45,200 tons of rice, increased by nearly 39% over the same period last year.
In 2016, this country exported more than 542,000 tonnes of rice to 65 countries in the world, increased by 0.7 percent compared to 2015. China is the largest rice importer of Cambodia with 130,000 tonnes.

Returning after the visit to China to attend the Forum "Belt and Road", via the personal Facebook, Cambodian Prime Minister, Samdech Hun Sen said that China had agreed to increase its rice import quota from Cambodia to 300,000 tonnes in 2018, 100,000 tons more than this year.

Before, in October 2016, China signed a Memorandum of Understanding with Cambodia about doubling the rice import quota from Cambodia to 200,000 tonnes in 2017.
Prime Minister Sandech Hun Sen once required Cambodia`s rice producers and exporters to put the quality assurance and trademark of export rice as their top priority, and also lower the production cost and expand the export market to increase the competitiveness of Cambodian rice.

According to Prime Minister Hun Sen, the lack of rice stockpiling and rice drying facilities is a major challenge for Cambodia in purchasing rice from farmers in large volumes. As a result, it`s necessary to increase the investment to overcome this limitation, then make contribution to improving the rice export capacity.

SokPuthyvuth , Chairman of the Cambodian Rice Federation (CRF) said that the Cambodian rice sector was facing up with other challenges such as high electricity prices and production costs as well as the poor irrigation systems, transport infrastructure and logistics.

Last October, QuingdaoTianRui, a representative of the Ministry of Agriculture, Forestry and Fisheries of Cambodia signed a Memorandum of Understanding (MoU) about the fact that this corporation had invested more than $ 2 billion into building a 300-hectare agricultural special zone in Kampong Speu province (Cambodia) which was specialized in stockpiling and processing agricultural products. As planned, this special zone will be completed after two years of construction, and it`s expected that about 30 - 100 factories will operate here in the next five to ten years.

Cambodia has two seasons: rainy season and dry season. The area of rice cultivation in this country's rainy season accounts for more than 80% of the total rice cultivation area, due to the underdeveloped irrigation system. In recent years, the total rice cultivation area of this country has reached about three million hectares, accounting for nearly 85% of the agricultural land,and produced the rice output of about 9 million tons. Nearly 70% of 15 million people of this country were farmers and about 2 million of whom grew rice.